Tokyo is one of the most fashionable cities in the world –its fashion caters to different styles and really does stand out. The same also applies to Japanese beauty – Japan is and has always been the pioneer of everything related to makeup and skincare, and is definitely a haven for makeup junkies like me. I have always admired Japanese women for keeping their youthful appearance, characterized by their very soft, supple skin as well as their signature makeup looks. While I was living in Tokyo, I took it upon myself to observe and learn how Japanese women do their everyday makeup look.
A typical Japanese everyday makeup look puts emphasis on looking young, which in Japan is normally defined as kawaii かわいい or cute. Secondly, the eyes serve as the primary focus of the makeup look – the bigger they look, the better – not only do bigger eyes give a cuter appearance but also allow for more expression, which can be seen from Manga or Anime. For this reason, makeup products that help give more definition to the eyes like double eyelid tapes and glues, eyeliners, mascaras and false eyelashes are truly must-haves. The third important element is the blush – it's not a Japanese makeup look unless there is a bright shade of blush applied up top, near the undereye area for a cuter, more baby-like appearance. Lastly, the element that ties everything together is skin. Japanese women place a lot of importance in having good skin so they never miss out on investing in quality skin care products as well as time to take their makeup off at the end of the day.
Now that I have shared an idea of how a Japanese-inspired makeup looks like, let me now, from a professional makeup artist standpoint, get into the nitty-gritty details through this step-by-step guide on how to create the look: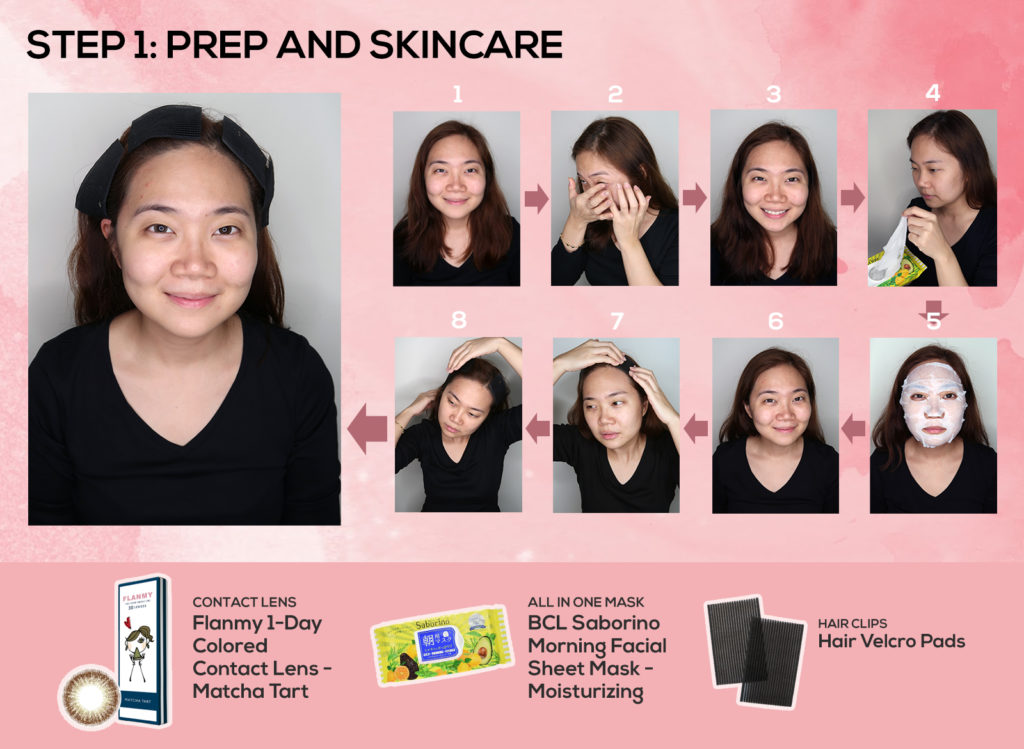 1-3: Eyes are one of the main elements to Japanese makeup and wearing colored contact lenses with bigger diameters helps make the eyes look bigger. For this look, I used one of my favorite colored contact lenses brands – FLANMY in the shade Matcha Tart.
4-6: Since beautiful makeup starts with beautiful skin, a Japanese makeup look never scrimps on skincare. For this look, I used a 60-second all-in-one morning mask that's everyone been raving about in Japan.
7-8: I used these hair velcro pads to keep any hair away from face. This helps me keep my makeup application clean and flawless.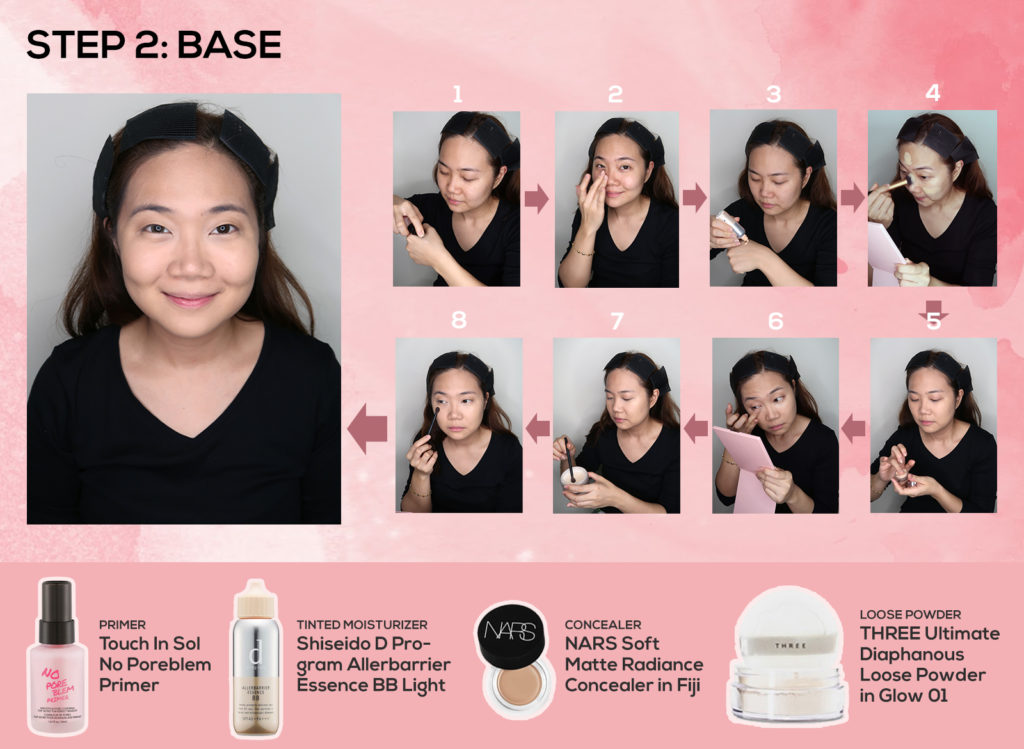 A Japanese base is all about fair and flawless skin – foundation is always light, with a soft and slightly matte finish.
1-2: To make sure I have a flawless base, I used a pore-filling primer. Just get a pea-sized amount enough to cover the areas of my face where I have quite enlarged pores – mostly on my cheeks and at the center of my forehead, in between my brows.
3-4: For my foundation, I chose to use Shiseido d-program Allerbarrier Essence BB. This is essentially a BB cream/tinted moisturizer so it has both coverage and skincare qualities. I also love the fact that it feels very light on the skin and true to Japanese foundations, deliver a demi-matte finish. Another great feature of this product is that it seals the skin with a protective barrier against any pollen, pollution or any other harmful substance that can be found in the air.
5-6: This is an optional step but if you have dark circles like me, then the next step is to cover your undereye circles with concealer. The young ones are untroubled and problem-free so it would be impossible for them to have these bags. Lucky for us, the concealer was invented. Covering our eyebags will help us maintain the youthful look we are trying to achieve.
7-8: To make sure the foundation sets in place, dust a bit of loose powder on your face. Since my base already has a demi-matte finish, I used a small fluffy eyeshadow brush to set the specific areas I need – my undereyes to prevent the concealer from creasing and my t-zone because this is the part where I get oily the most.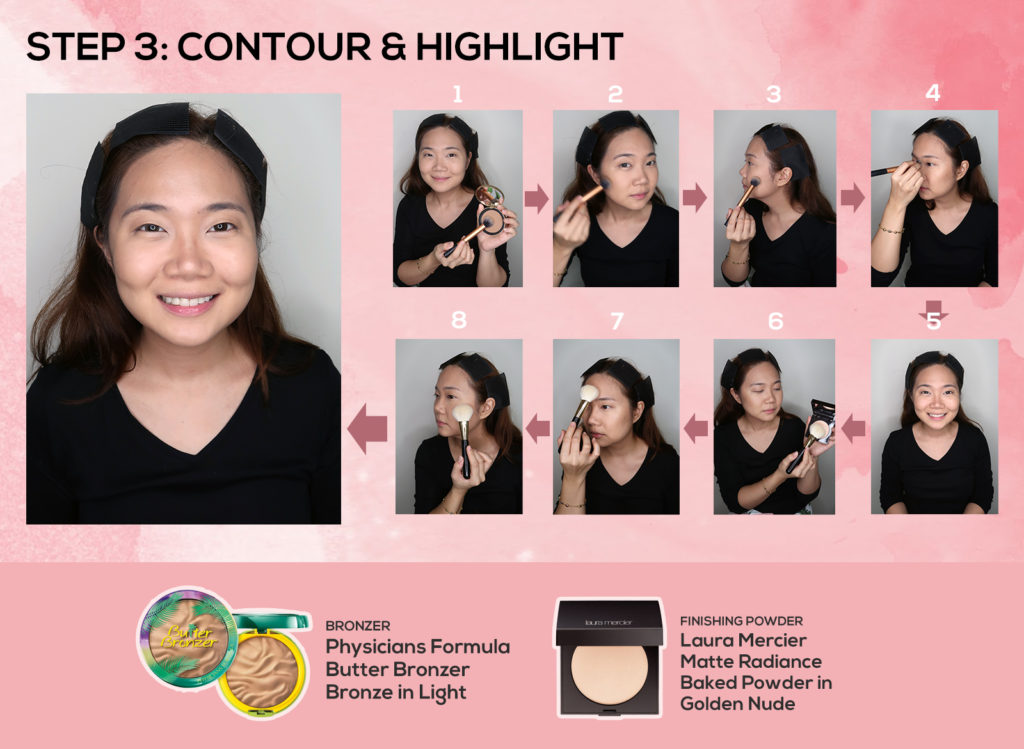 Next step is to give my face a bit of definition and shape by contour and highlight. This is actually more of a Western makeup technique but Japanese beauty is slowly picking up on this, and do it a tad more lightly, to keep with the cutesy, kawaii look.
1-5: I get a bit of my Physician's Formula Butter Bronze, pat lightly to remove any excess powder – I run my brush through a 3-shape (from my temples, passing through the hollows of my cheeks down to my jawline) on both sides on my faces. I also run the bronzer on both sides of my nose to give the illusion of a higher nose.
6-7: The name of this product is actually a bit misguiding because this is not at all matte. I love using the Laura Mercier Matte Radiance Baked Powder in Golden Nude as a subtle highlighting/finishing powder because it gives my face just the right amount of glow to look super fresh and healthy. I pat this powder onto the high points of my face – center of my forehead, tip of my hose, peak of my cheekbones.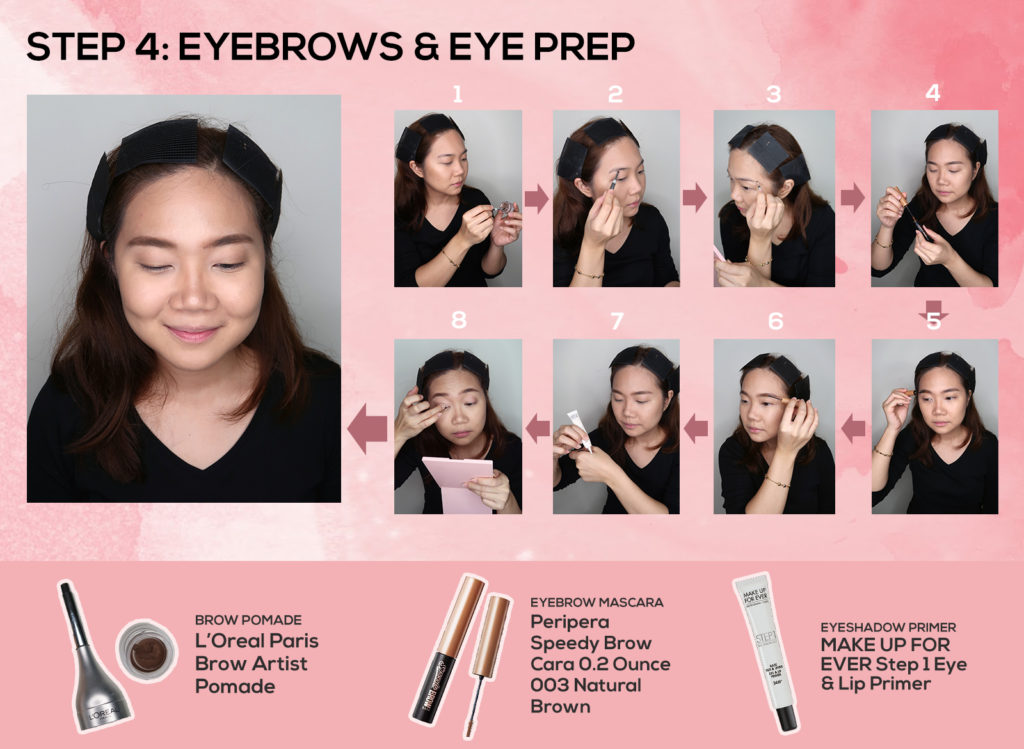 Japanese eyebrows are flat and straight because this shape gives the face a youthful appearance and makes you look more kind.
1-3: I start to define my brows by drawing a straight line the bottom. Next, draw a slightly shorter line at the top and lastly, a slanted line to make the two lines meet. Then fill in the brows using the remaining product on the brush. I make sure to do stroke-like motions when filling in to mimic the illusion of hair – doing this also helps me keep my brows from looking too bold and strong. I want them to look as soft and natural as possible.
4-6: Once the desired shape is achieved, using an eyebrow mascara to tint the brow hair with a shade that matches the color of their hair is a must!
7-8: I am now applying a bit of my Make Up For Ever eyeshadow primer on my lids to prep them for the next step which is eyeshadow.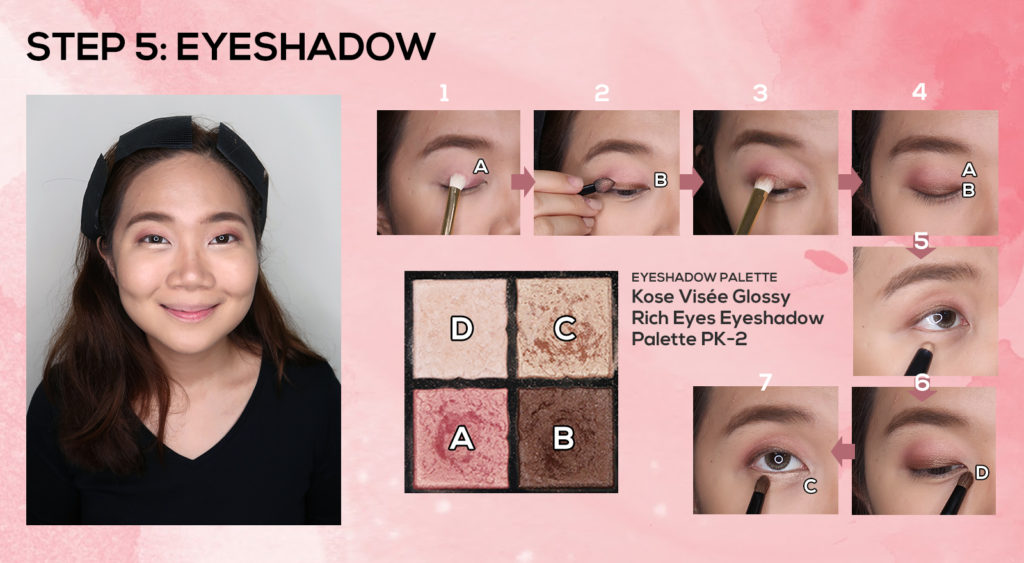 Japanese eye makeup looks have a strong preference for rounder, puppy dog eyes. Eyeshadow is always shimmery and shades are usually fall within the purple, pink, coral or peach tones.
Every Japanese makeup brand has come out with their own eyeshadow quads. These palettes typically contain one light shade, two medium shades and one deep shade – which are essentially all you need to create different eye makeup looks. This is probably the reason why eyeshadow quads are very popular in Japan – they're very convenient and super easy to use. For this look, I am using an eyeshadow quad from Visee which has a pink undertone.
1: I take the brighter medium shade (A) and apply it all over my lids – this will serve as my base and main eyeshadow color.
2: To make my eyes look deeper and prepare it for definition from my eyeliner, I apply some of the deep shade (B) onto the part of my lid that is closest to my lashline.
3-4: I take a fluffy brush to blend the two shades together making sure that the transition from one shade to another is seamless.
5: As mentioned earlier, a key to making the eyes look bigger and rounder is highlighting the fatty part under the eyes (aegyosal), so as my next step, I am applying a shimmery champagne cream eyeliner on my aegyosal. This will serve as the base for the shimmery powder eyeshadow and make sure that it sticks and last me throughout the day.
6: I apply the lightest shade (D) to highlight the inner corner of my eyes. Doing so makes the eyes pop out more.
7: Lastly, I take the other medium shade (C) and apply it on my aegyosal to highlight and seal in the cream eyeliner.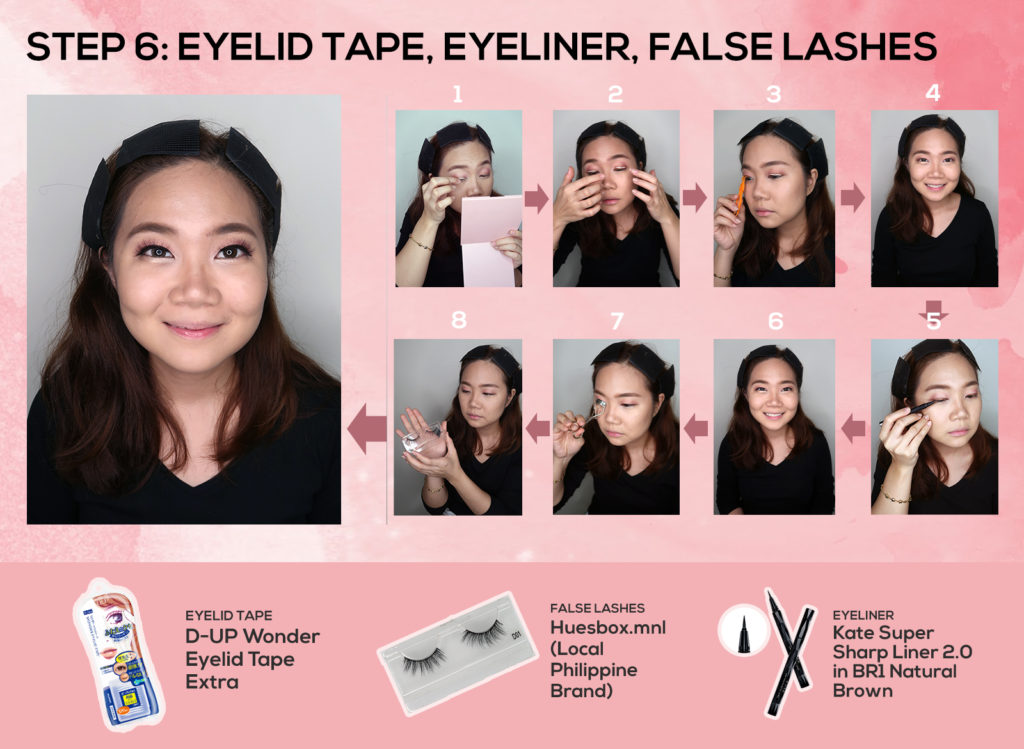 These eye makeup products are essential in taking my eye look a notch higher and make my eyes look more Japanese-like.
1-4: I love eyelid tapes because they truly work wonders, most especially for girls who have monolids like me. This is the secret tool in achieving double eyelids. I simply apply the tape on the area where I want my lid to fold, take off the non-sticky bits, and use the little fork that comes with the tape to push and secure the "fold" in place. Using these tapes can be tricky and may take time getting used to, but everything becomes easy with practice!
5-6: Eyeliner is a must to define the eyes and make them seem bigger and rounder. I use my trusty and favorite liquid eyeliner from Kate to line my eyes staying as close to my lashline as possible and then, extend the line downward which is key to creating a 'puppy eye' look.
7-8: After curling my natural lashes with my Shu Uemura lash curler. I go ahead and glue on some false eyelashes. Japanese eyelashes are thick and long. Lashes with a lot of volume, length and a flair of drama are more feminine, and therefore, look more doll-like.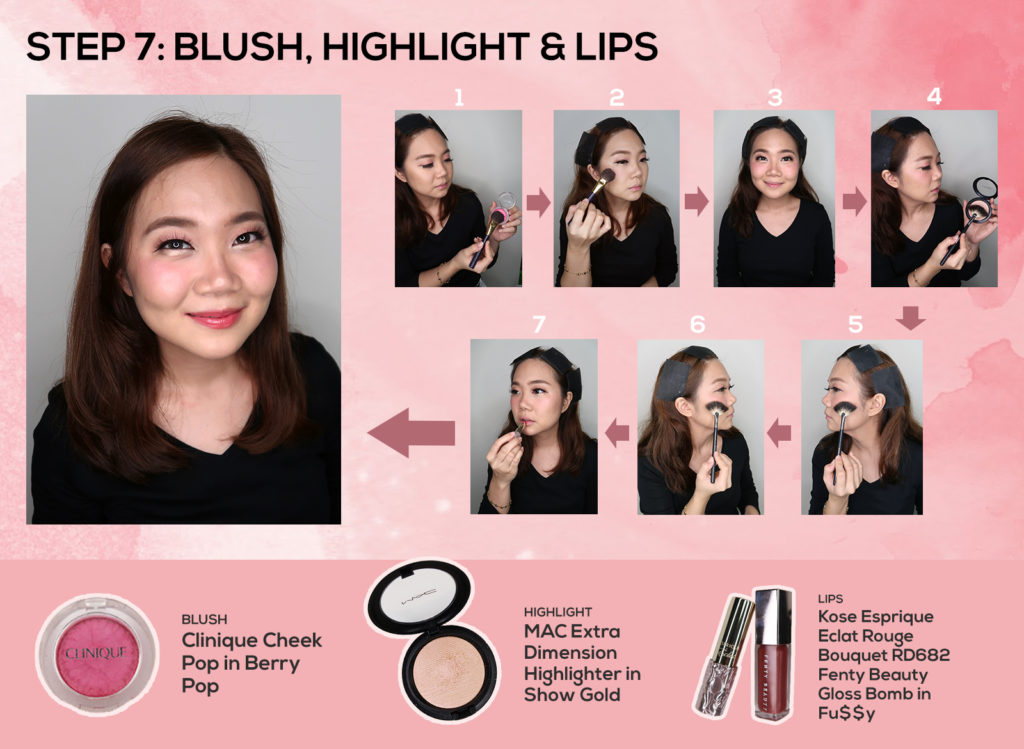 Japanese blush shades are bright and applied closer to the eyes. This is done to achieve either a baby-like or sickly look which are both very much popular with Japanese teen girls right now. To balance out the eye makeup, Japanese lip colors are usually MLBBs or my-lips-but-better and always look so juicy, so make sure you don't scrimp on the lip gloss!
1-3: I apply a bit of my Clinique Berry Pop blush on the area right below my eyes and just a bit above my cheekbones. I swirl my brush to buff the blush into the skin to achieve a more natural flush, as though the color is part of my skin.
4-6: To add a bit more shimmer, I apply a thin layer of the MAC Extra Dimension Highlighter in Show Gold onto my cheekbones. The pearlescent and duo-chrome finish (which goes from gold to rose gold) of this highlighter truly complements my blush and makes it pop even more.
7: For my lips, I chose to go with a rosey shade that truly is my MLBB color. I layer on my newest discovery the Fenty Beauty Gloss Bomb in Fu$$y to make my lips look juicy.

Here is the finished look! Sooo, what do you think? Ain't it かわいい?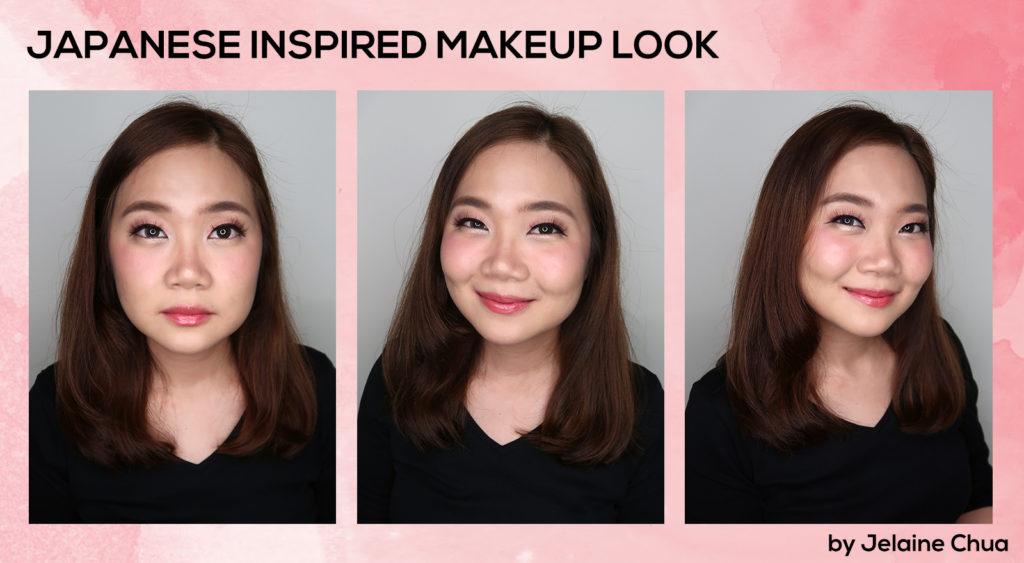 Don't get intimidated by how detailed this guide is, because the details are actually there to make it easier for you to recreate this look! Do share your version of this Japanese-inspired makeup look with us through the comments section below or by tagging me on Instagram (@jelaineeey). I look forward to seeing your beautiful looks!
Writer's Bio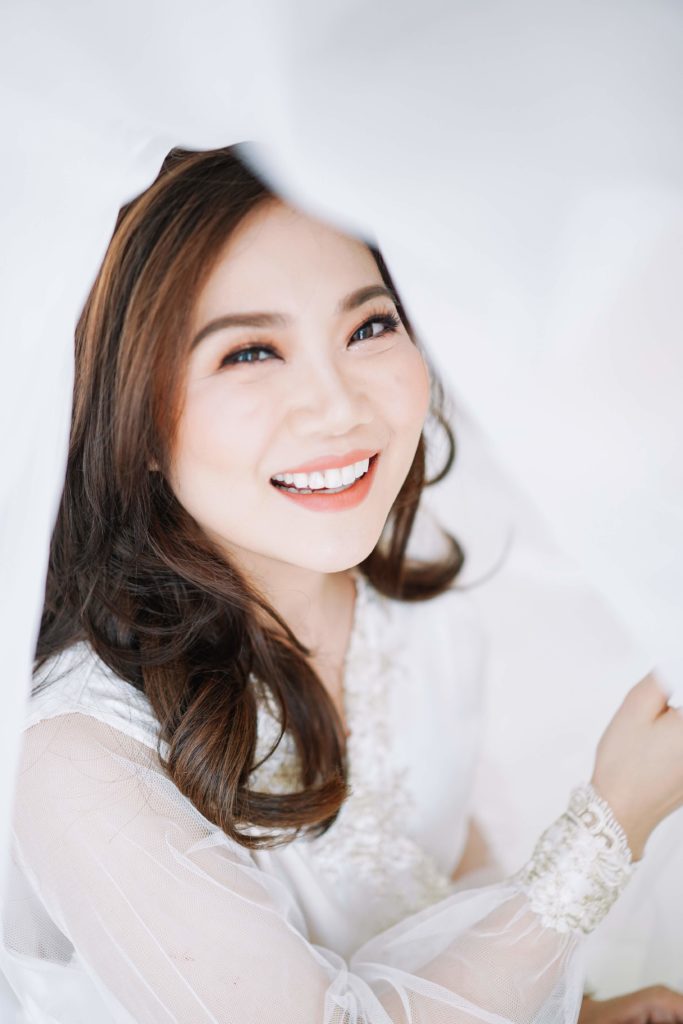 Jelaine owns 68 lipstick tubes (and counting) and thinks that eyebrows are life. It might be an understatement to say but she is a little very much obsessed with makeup.
This love brought her to one of the most fashionable, dynamic and beauty-loving cities in the world — Tokyo, where she stayed for three years (until 2018). After taking up a Masters in Business Administration from Globis University, she worked for a financial company, and at the same time, explored and scoured through drugstores, Donkis and department stores for the latest J-Beauty products.
Currently a professional makeup artist based in Manila, if Jelaine is not on shoots or on her makeup gigs, she manages her own makeup line (@hey.sundays on Instagram) and likes to share her love for beauty through her social media accounts (@jelaineeey / @afterglowbyjelaine on Instagram), blog (https://chuajelaine.wixsite.com/j-beautystop) and YouTube channel (http://bit.ly/JeChuaYT).