With regard to premium hand crafted and luxury makeup brushes, there is no denying that Japan is the mecca and Japanese brushes are truly the best of the best. As a makeup enthusiast, I have personally heard of many great things about Japanese makeup brushes, but have not had the chance to try them first hand. Why? Well, that's mostly because Japanese brushes don't really go for cheap and every time I do muster up the will (and funds) to try them, I eventually end up changing my mind and thinking of the many other makeup products I can buy if I skipped on these.
Fast forward to the present, I was fortunate to be given another opportunity to work with the team behind the Japanese beauty site, Datumou Recipe. And I say another opportunity because they have previously tapped me to create a Japanese-inspired everyday makeup look for them, which you can read here.
This time around is much more special because it came with gifts!! They, together with their partner, Koyudo (a brand of Japanese makeup brushes) and Fude Beauty (an online Japanese makeup brush store) were kind enough to gift me with $200 worth of brushes to use and review. Of course, it goes to say that all thoughts and opinions expressed herein are my own and are in no way influenced by any of the companies mentioned. Now that we've clarified that up, on to the brushes and the review!
Datumou Recipe asked me to choose which Koyudo brushes I'd like to try from the website www.fudebeauty.com ("fude" stands for brushes). It was my first time hearing about this website, but the moment I laid my eyes on their landing page, I was instantly filled with joy!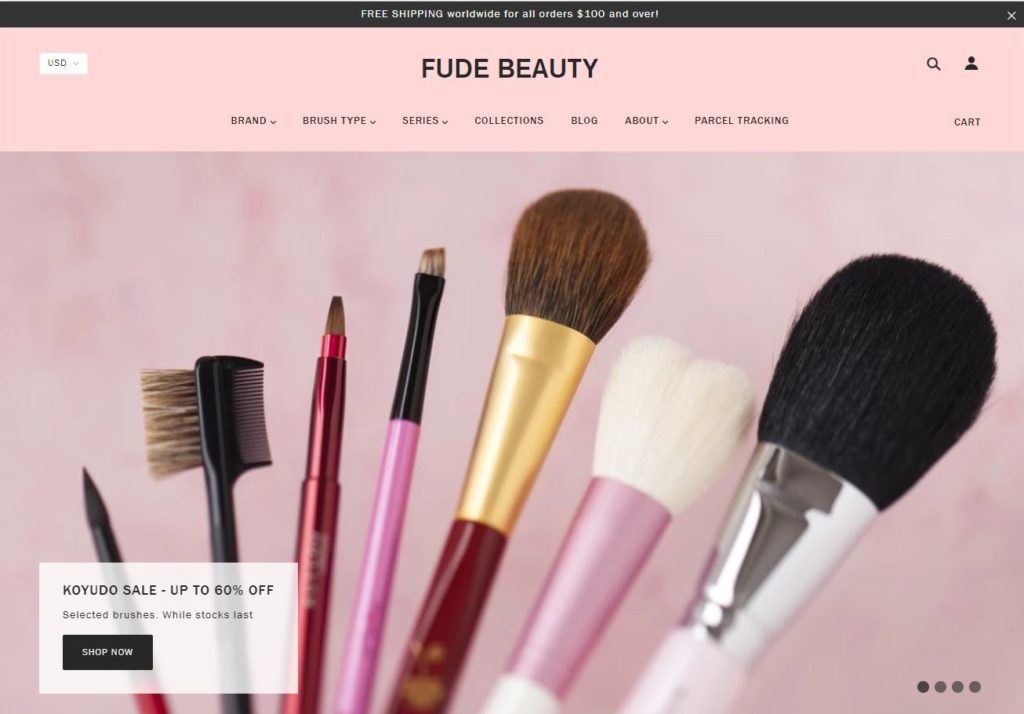 FINALLY! There is a store from which international buyers can easily buy Japanese makeup brushes. Before FUDE Beauty, it was definitely a challenge to source Japanese brushes mainly because (1) buyers feel overwhelmed with the many choices as well as the cramped and overcrowded Japanese e-commerce sites, (2) there are not much English resources/sites and (3) no international shipping options. All of these are solved by Fude Beauty. The site is very easy on the eyes, there are English descriptions for all their products, and last but not the least, it offers FREE international shipping with a minimum purchase amount. So, if ever you are looking to try out or add more Japanese brushes to your collection, you know where to get them. You're welcome!
I was able to get 7 brushes with the budget given – all of which you'll know and read about in a bit. While waiting for the brushes to arrive, I, out of curiosity, looked up Japanese brushes online, because even though I was previously itching to try them out, I haven't really done any thorough research on them. You'll probably be able to read the same things on the Internet but let me just quickly share the few bits of information that struck me and got my interest.
Why are Japanese Brushes Expensive?
It's a whole science – Manufacturing Japanese makeup brushes is a craft in Kumano, a region in Hiroshima prefecture. They are produced by Japanese artisans with a long history of expertise in crafting handmade calligraphy tools. In fact, training to be a Japanese makeup brush artisan can last up to 10 years.
Skillfully handmade with refined techniques – Japanese makeup brushes require around 30 steps to create, and most of these steps are still done by hand. Each brush is carefully combed and shaped making sure there are no stray or crooked hair. Brush artisans are also very particular when they pick out the kind of hair to use.
Carefully sourced high-grade materials – Materials play a vital role in the finishing product, so artisans work hard to look for superb quality materials to craft the best Japanese makeup brushes.
To summarize, yes, Japanese brushes, when compared to other alternatives, can definitely be the more luxurious and costly choice, but when singled out, you will realize that price simply equates to quality and given what we already know about Japanese brushes, I swear you are getting every bit of your money's worth with these.
What Makes Them Stand Out Versus Other Brushes?
Originates from calligraphy brushes – Japanese makeup brushes root from calligraphy brushes, so the tip of the bristle always played a vital role in its quality. In calligraphy, bristles vary depending on the desired thickness of the stroke, on how much ink would be deposited, on the kind of paper, etc.
Natural hair bristles – Japanese makeup brushes use natural animal hair such as goat, squirrel, and horse, which makes them extremely soft to the touch. Each hair type has a specific feature and is used for a specific brush type. Therefore, it would be best to choose your brush based on the type of application (face, eyes), product texture (liquid, cream, powder) and skin type. This improves overall performance and allows you to maximize the use of your brushes. Moreover, unlike the tips of synthetic brushes which are cut by machine, the natural cuticles of the hair used in Japanese makeup brushes are kept intact. The natural animal fibers tend to hold powder and color pigment better for a more even application.
My First Set of Japanese Makeup Brushes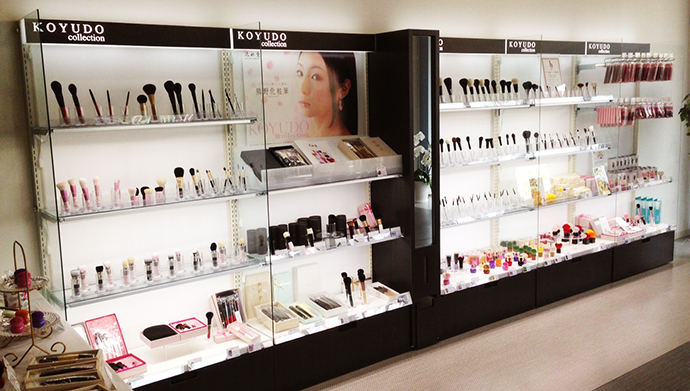 Koyudo is one of the leading Japanese makeup brushes manufacturers located in Kumano and has been established in 1979. The company has 80 employees, 70 of which are artisans, spread among their office and two factories. The first Kanji character in its name, "晃 (Ko)", suggests that it aims to be a company that shines like the sun. Its main philosophy is "To keep on changing to stay the same," which is pretty prevalent in Koyudo's products. Theirs is the only brand I've seen with such creative, colorful and fun designs but at its heart, stays true to the craftmanship behind Japanese makeup brushes.
As I was given the freedom to choose a set of brushes, I made sure that I made it a comprehensive collection – meaning there is a brush for each usage and that I am able to have a variety of hair types.
The Brushes I Selected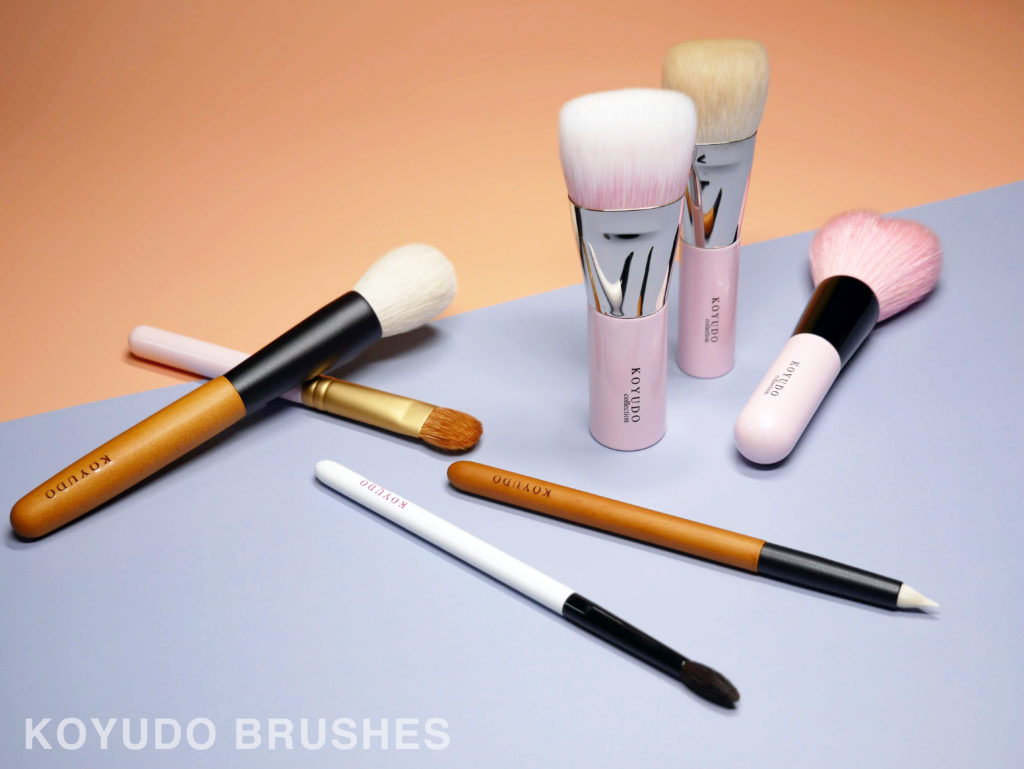 Foundation Brushes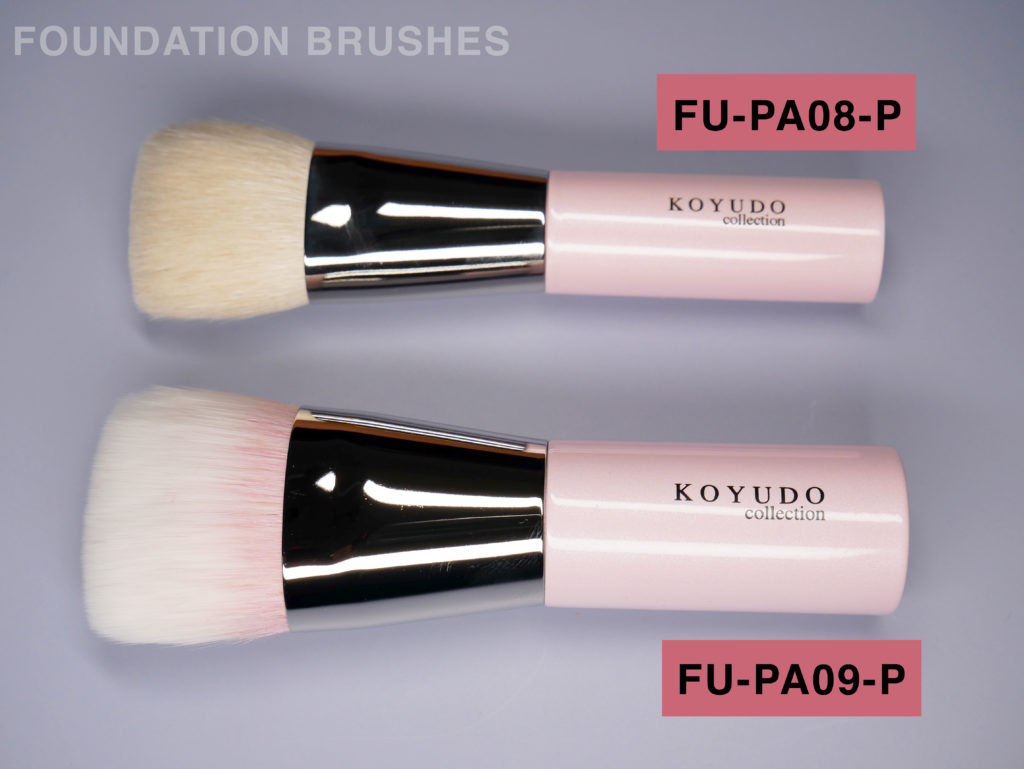 As a personal preference, I like a cream or liquid base and seldom use powder foundation; hence, choosing to get two foundation (base) brushes. I got a FU-PA09-P which is made of a mix of natural goat and synthetic hair and a FU-PA08-P which basically has the same shape, only smaller and made with only natural goat hair.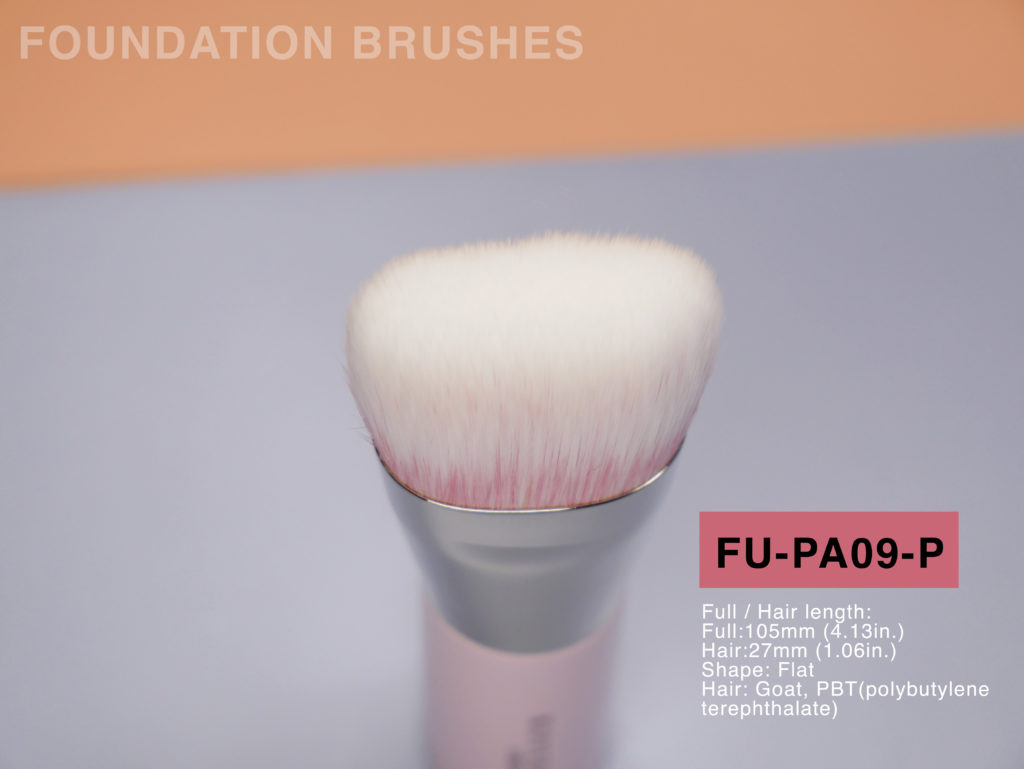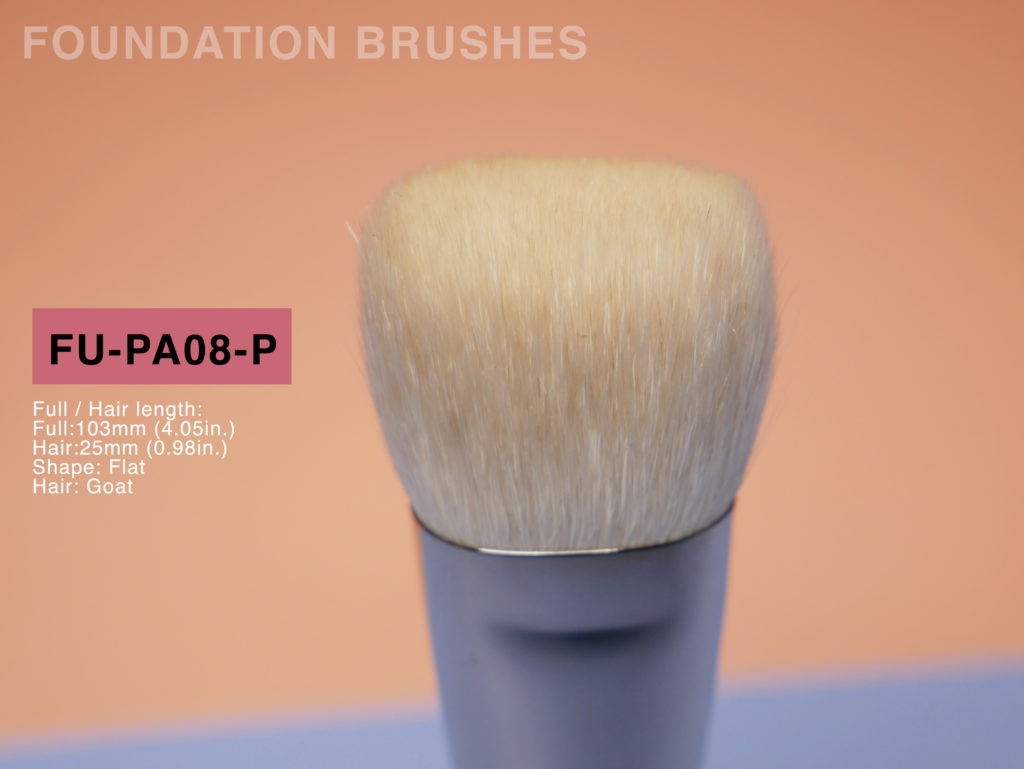 Whenever I do my makeup, I try to apply a full face of cream/liquid makeup products and then set them with a layer of powder products, I find that doing this makes my makeup look more natural and last longer. My experience using these brushes is phenomenal! Both are densely-packed, super soft and feel so luxurious. I liked using the former to buff and blend in my liquid foundation as well as other cream products like contour, blush and highlight. However, because it is highly-dense, the FU-PA08-P is not the best brush to use in dusting loose powder to set, but it rocked my world as a contour brush! It has the perfect shape and size to sculpt cheekbones as well as draw shadows along the sides of my nose. The short handles of both brushes also give me a lot of control, therefore more precision, in my makeup application.
Blush, Highlighter, Countour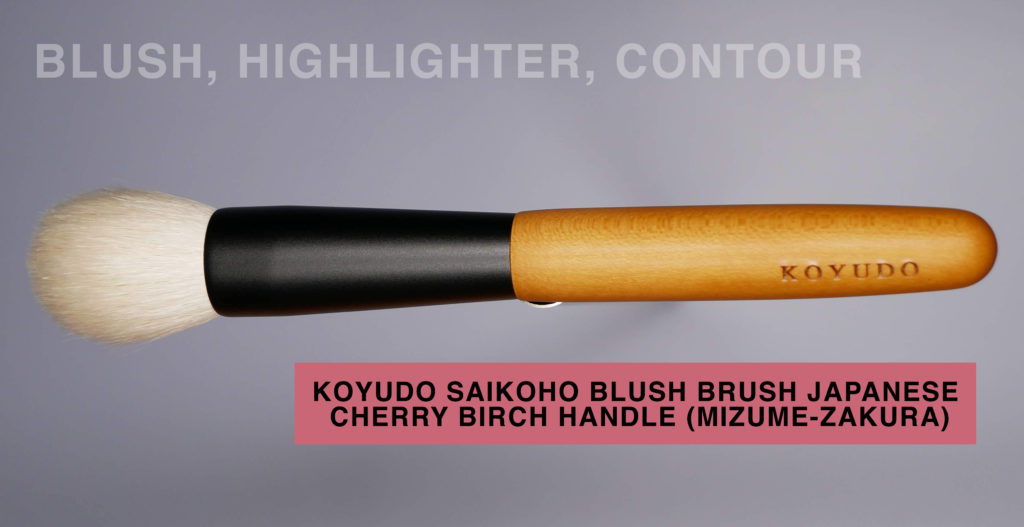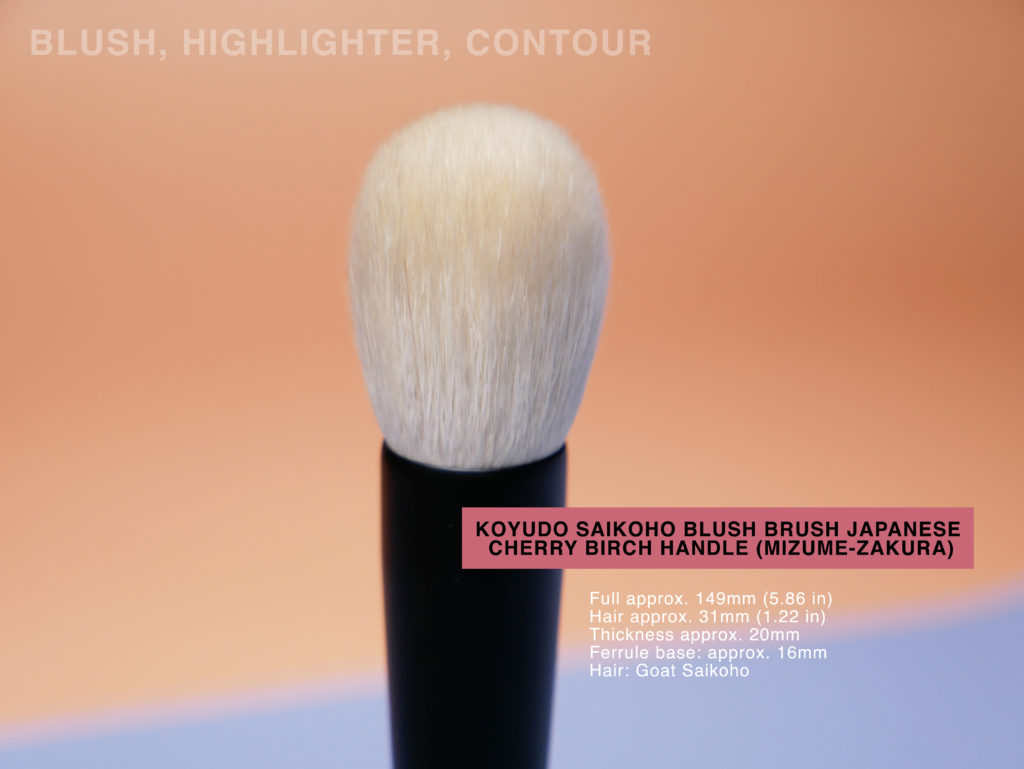 Made of the highest quality goat hair, Saikoho Goat, the Saikoho blush brush is the softest brush of the bunch. It actually says on the website that this is great for contouring as well, but I have instantly fallen in love with the FU-PA08-P to even give this a try (but will definitely do it soon) so I have only used this to apply my powder blush and highlight. It picks just the right amount of product and feels extremely comfortable to pat blush onto my cheeks and swipe on highlighter at the top of my cheekbones. I also didn't have any trouble blending in the products with this brush. Heaven!
Powder and Blush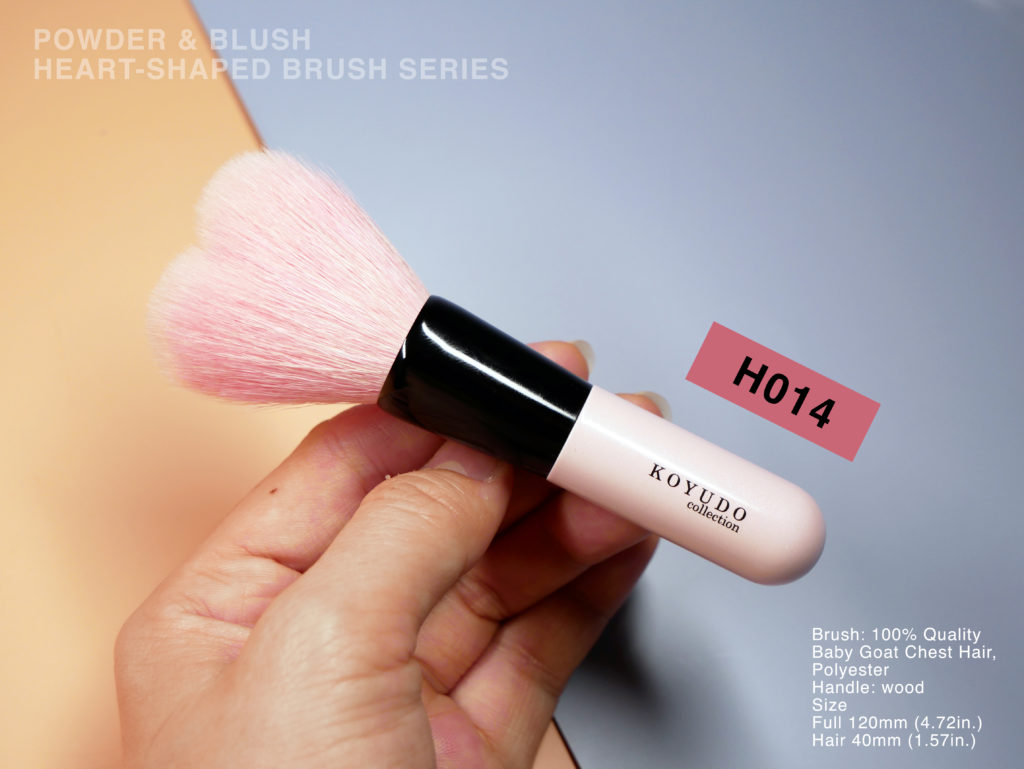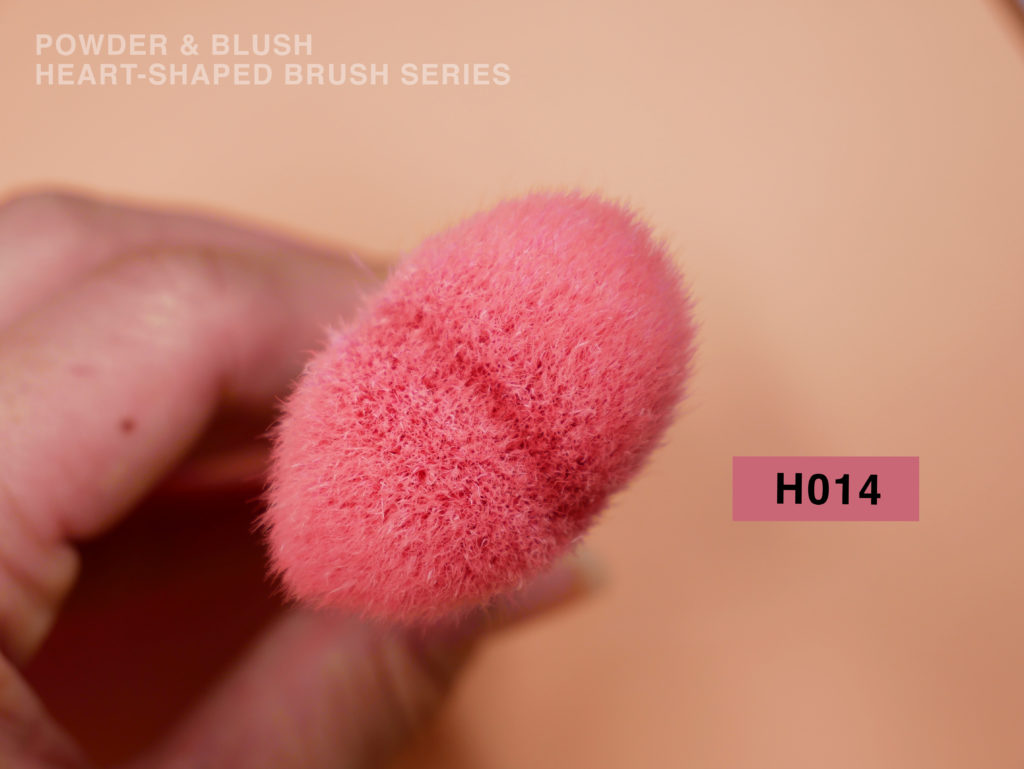 Koyudo really went cute with this brush, not only do the two peaks resemble a heart, but they also made it pink! Omg, my heart is melting! Having two peaks is quite unusual for makeup brushes, but if it's this pretty, I am not complaining!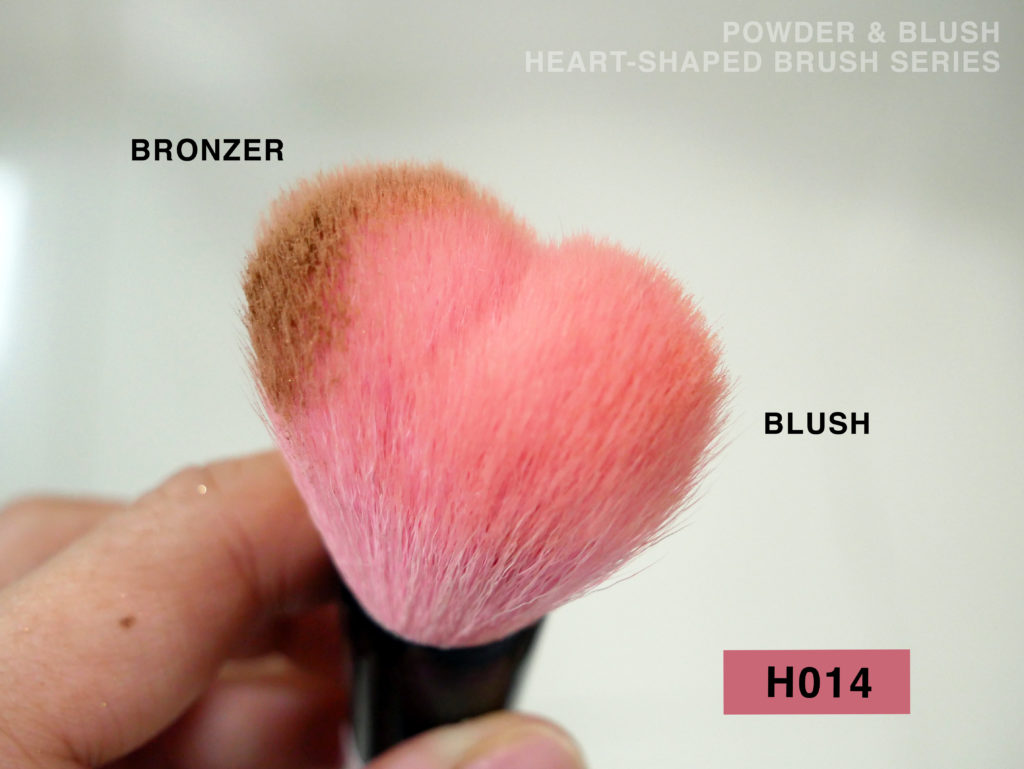 I know I'm supposed to use both peaks with the same product, but I am pretty sure this wouldn't perform any differently compared to the Saikoho blush brush above. So, to make things more interesting and exciting, I experimented on this brush a little and picked up powder blush on one peak and a powder bronzer on the other. IT. WAS. MAGICAL. Both powders applied evenly and blended so nicely together. I was able to complete two steps in one. How amazing is that!?!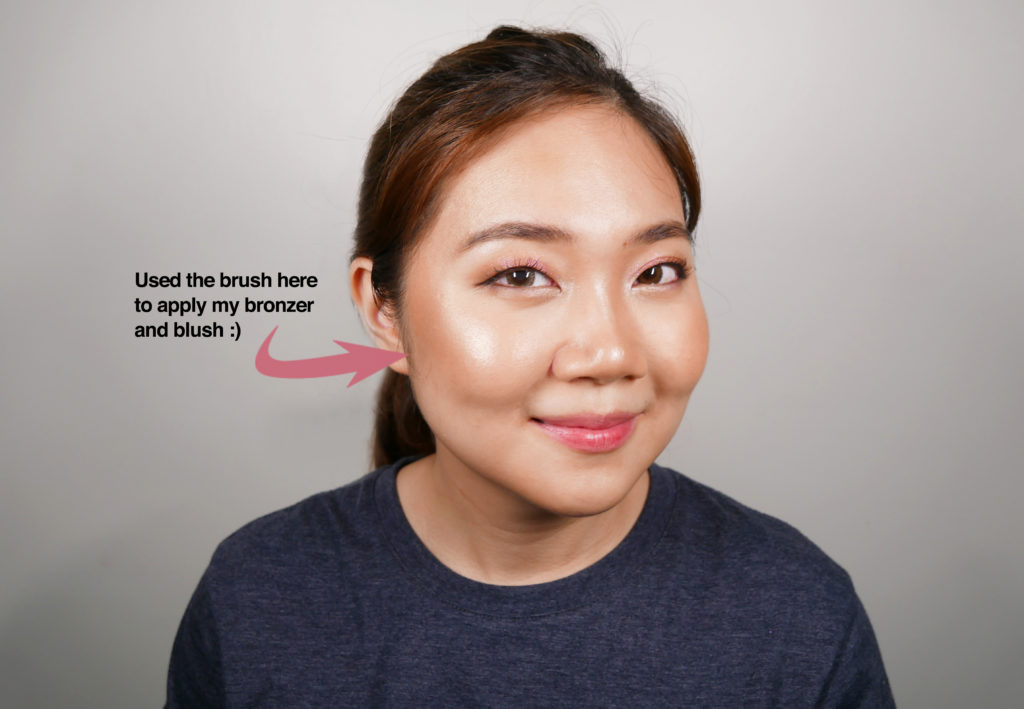 Eyeshadow Brushes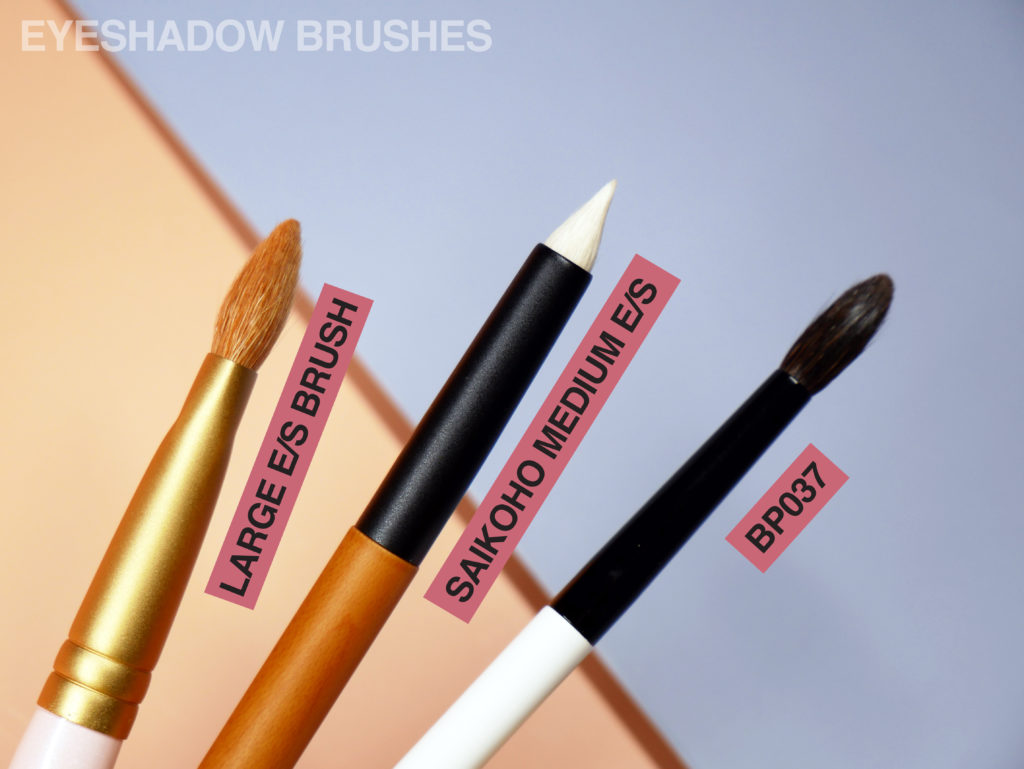 For eyeshadow brushes, I got three kinds, one basic which is a flat brush to deposit color shapes that I haven't seen from other brands – BP037 which has an almond shape and is made of 100% gray squirrel hair and a Saikoho eyeshadow brush that looks more like a pencil brush.
Eyeshadow application, most especially on monolids like me, can be really tricky so what better brushes can make the whole process a dream if not for Japanese ones, right?! OH YES!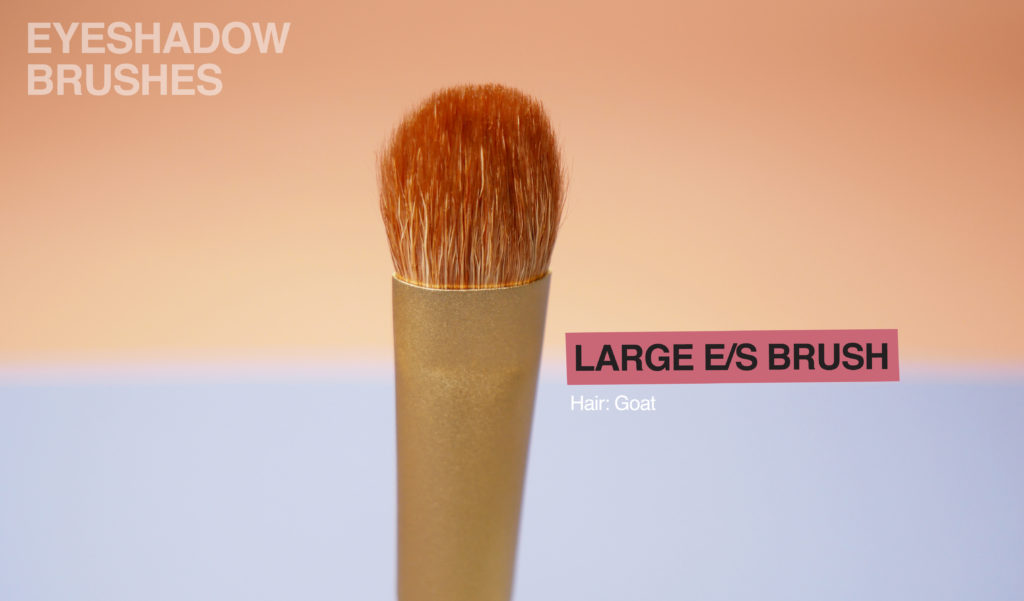 The flat brush was lovely to use – it picked up the right amount of eyeshadow and deposited a good and even amount of pigment in just a light pat on the lids, and building on layers of the same shadow was super easy to do.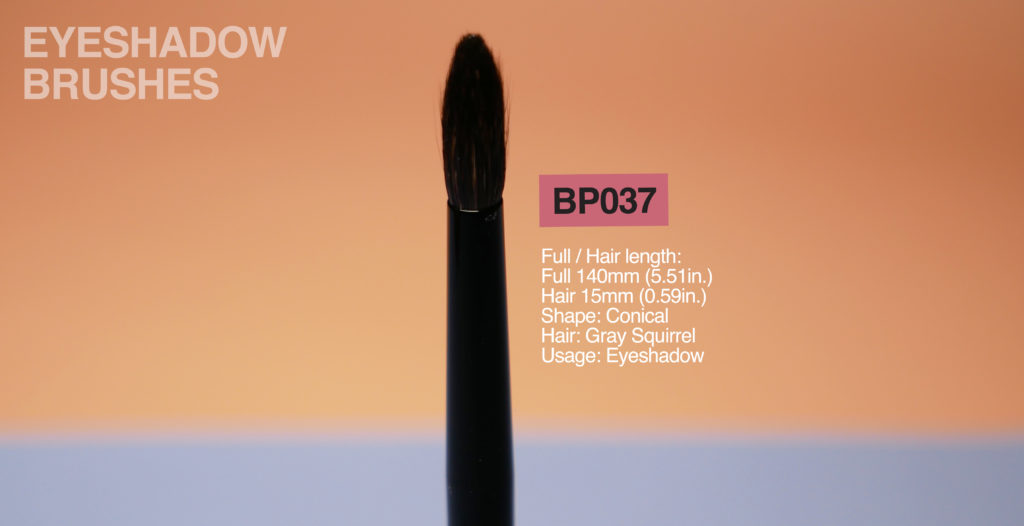 Built to provide definition on small eyes, I used the BP037 to define my crease. I covered the whole brush with product by rolling the sides onto the pan and dipping the tip a couple of times. I placed the tip on the outer corner of my eye because this is where I want the color to be concentrated, and then slowly run the brush through my crease, gradually decreasing pressure as I got closer to my inner corner, and what can I tell you – it works so well, I got my crease defined in no time! This definitely cut my eyeshadow time in half.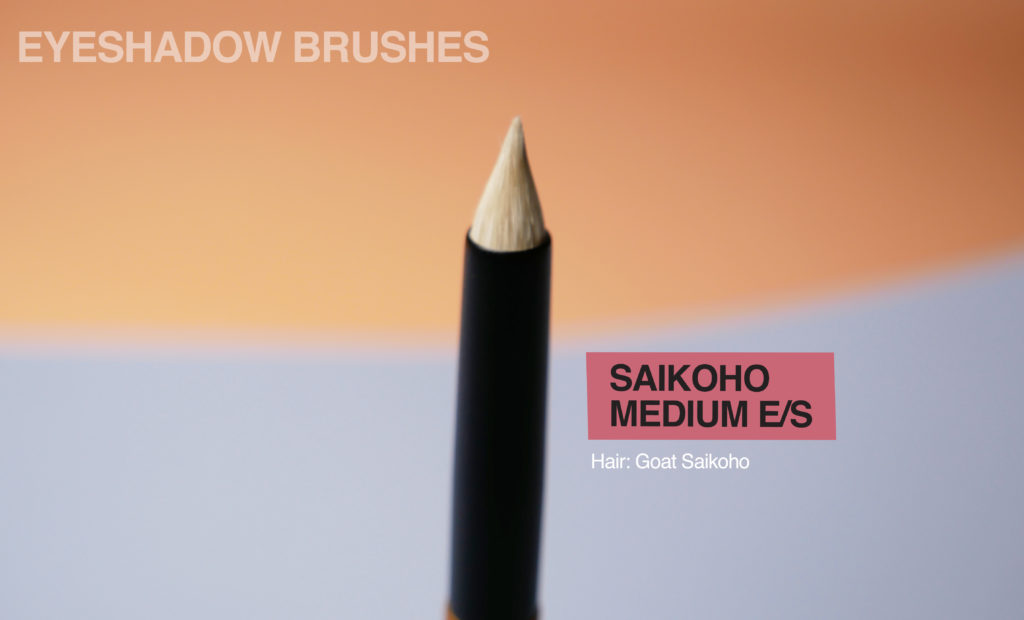 Last but not the least is the Saikoho eyeshadow brush. I haven't used any brush quite like this before – the moment it picked up color and helped me to deposit eyeshadow on my lower lashline, near my waterline, I was instantly taken aback! This is the dreamiest pencil brush for small eyes! The tip is the "perfect small" needed to deliver precision, and it is soft enough to allow work on sensitive areas of the eye. The rest of the brush is hard to support and provide control. There's really nothing quite like it. Swear!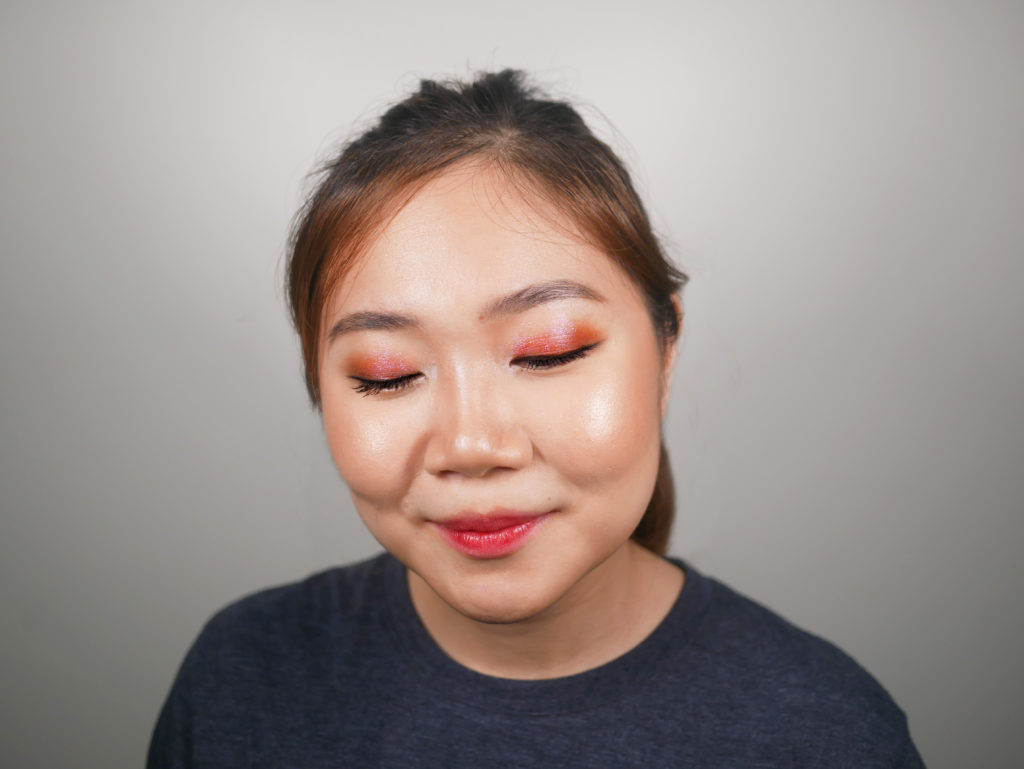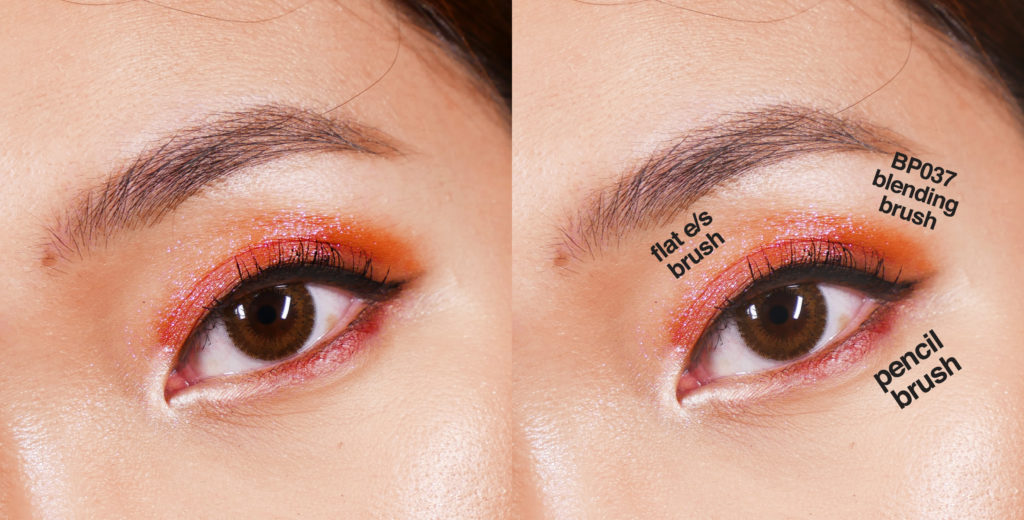 The website also suggests to use it to smudge eyeliners and create a smokey effect along your top lashline which I will definitely do next time!
Overall, I had a wonderful experience working with these brushes. All of them feel luxurious and excellently made – there isn't anything that feels loose or clunky, everything's super compact and durable. These are also the softest brushes I've used in my entire life and now, I can understand why they come with hefty prices.
The only cons to these are (1) you really have to be careful when handling these during wash – proper washing makes them last years but they're super fragile that any wrong move can immediately damage them; and (2) since they're made of natural hair, they are not the best tools for cream/liquid products and are only ideal for use with powder products. Nevertheless, I do think these are worth the investment because just like any other Japanese product, you can feel the artistry that takes in making them. One can definitely expect nothing but the greatest quality and top-notch performance with these.
If you're thinking of investing in your own Japanese makeup brushes, a tip would be to know your skin type as the type of hair you'd want to get highlight depends on that – do you have oily skin? Then go for brushes with goat hair as these are the most durable and therefore, can withstand regular washing and have less dirt to clog your pores. Or do you have dry skin? Blue squirrel is much more delicate and would be perfect for dry skin as it produces less oil and will require the brush to be cleaned less frequently.
Writer's Bio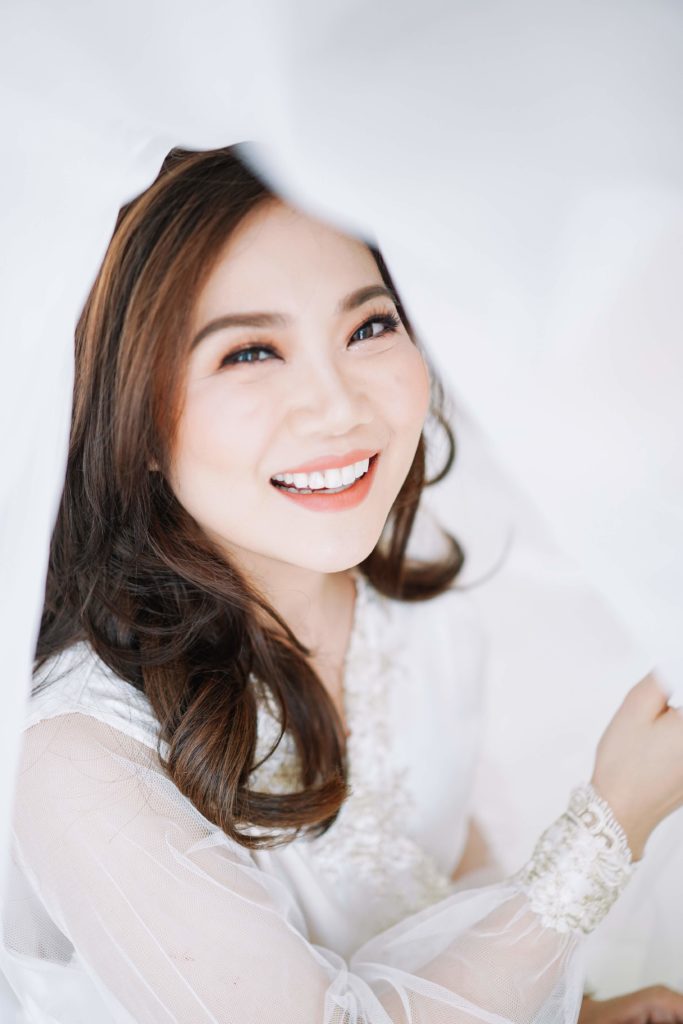 Jelaine owns 68 lipstick tubes (and counting) and thinks that eyebrows are life. It might be an understatement to say but she is a little very much obsessed with makeup.
This love brought her to one of the most fashionable, dynamic and beauty-loving cities in the world — Tokyo, where she stayed for three years (until 2018). After taking up a Masters in Business Administration from Globis University, she worked for a financial company, and at the same time, explored and scoured through drugstores, Donkis and department stores for the latest J-Beauty products.
Currently a professional makeup artist based in Manila, if Jelaine is not on shoots or on her makeup gigs, she manages her own makeup line (@hey.sundays on Instagram) and likes to share her love for beauty through her social media accounts (@jelaineeey / @afterglowbyjelaine on Instagram), blog (https://chuajelaine.wixsite.com/j-beautystop) and YouTube channel (http://bit.ly/JeChuaYT).