Want to remove unwanted body hair but don't know where to go in Tokyo? We've put together a price comparison of Tokyo's top 5 English-friendly hair removal salons and clinics to help you find a budget-friendly solution. Keep reading to see cost comparisons, what's unique about each featured clinic and salon, the treatment technology that each uses, and the best way to get in touch for counseling, reservation, or both.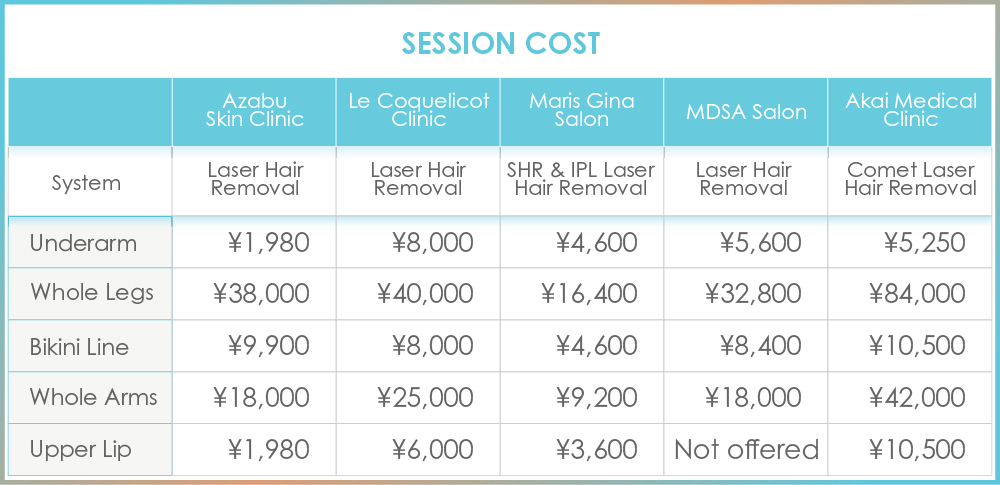 Note: prices are for one-time treatments. Salons and clinics may offer package deals in which prices will change.
Top 5 English-Speaking Hair Removal Salons in Japan
Before we begin, let's discuss the difference between hair removal salons and medical clinics in Japan. Salons will use a gentler laser while clinics are certified to use more powerful lasers. Salons are typically cheaper and less painful than clinics. However, clinics take less sessions to see results and are thought to be more effective.

Azabu Skin Clinic
Azabu Skin Clinic located in Minami-Azabu, Tokyo, uses an advanced laser hair removal treatment called the Gentlemax Pro, which is effective for any skin type. It combines yttrium aluminum garnet (YAG) with alexandrite (the green variety of chrysoberyl) lasers to provide a superior hair removal experience. This treatment is safe and works effectively for removing hair from any part of the body, including forearms, upper arms, lower legs, thighs, knees, back (whole or half), and abdomen. To ensure that treatments are comfortable, a Dynamic Cooling Device is used. This device sprays the skin with a cooling burst of cryogen milliseconds before each laser pulse.

Locations: Minami-Azabu
Detailed Pricing List: http://www.azabu-skinclinic.com/english/medical/removal.html
Schedule an Appointment: http://www.azabu-skinclinic.com/english/contactus/index.html
Le Coquelicot Clinic
Le Coquelicot is a medical clinic located in Ginza, Tokyo, that uses today's most modern laser machines to offer effective hair removal treatments. They have four different types of devices — the duet, light-sheet, YAG laser, and soprano — to remove unwanted hair depending on your needs, skin type, and hair type. For sensitive skin, Le Coquelicot is able to use an anesthetic cream to ease the pain. They also offer package discounts for multiple body areas. While they offer single trial sessions, you will need at least 3 sessions to reduce your hair thickness from coarse to fine, and up to 12 sessions to treat fine, light hair and for treating excessive hair regrowth. Your needs will determine the number of sessions you will have to undergo.

Note that you will be charged 10% of your fee if you cancel on the day of the appointment.
Locations: Ginza
Detailed Pricing List: https://www.coquelicot.co.jp/medical-laser-hair-removal/?lang=en
Schedule an Appointment: https://www.coquelicot.co.jp/questions-ginza-coquelicot/?lang=en
Akai Medical Clinic
Akai Medical Clinic mainly uses a comet hair removal system but electrolysis and laser hair removal are also available upon request. The comet hair removal system is a treatment process that is effective for removing downy hair or any other kind of hair and from any skin color. This system used a combination of radio frequency (RF) waves and diode laser. The duration of treatment will depend on the treatment area and can range from 10 – 30 minutes. To see effective results, 3 – 5 treatments are required. Though you may experience slight redness after your treatment, there will be no lasting pain or swelling.

Locations: Omotesando and Yokohama
Detailed Pricing List: http://www.akaiclinic.com/en/price/#acne_yokohama
Schedule an Appointment: http://www.akaiclinic.com/ost/inquiry/en/contact_reserve.php

MDSA Salon
MDSA salon located in Azabu-Juban offers intense pulsed light (IPL) hair removal procedures for those with sensitive skin. The pubic area, feet, and underarms are the three most common hair removal procedures performed by MDSA. IPL hair removal involves five steps:
1. Shaving the treatment area
2. Applying a cooling gel to protect and moisturize the skin
3. Removing hair using an IPL device
4. Applying a cold towel to cover and cool the treatment area
5. Applying a soothing lotion to moisturize and tighten the pores for smooth flawless skin

Locations: Azabu-Juban
Detailed Pricing List: https://mds-a.jp/english/woman/menu.html
Schedule an Appointment: https://mds-a.jp/english/reservation.html

Maris Gina Salon
This salon's Roppongi location offers both SHR (super hair removal) and IPL (intense pulsed light) laser technology, while all other locations offer only IPL. IPL laser hair removal can be a bit more painful as SHR lasers use a softer light that treats a wider area resulting in less pain. While IPL laser is best for dark black hair, SHR laser is effective for treating light, thin hair with darker or tanned skin. Depending on your skin and hair color, staff at Maris Gina will be able to help you determine which laser will work best for you.
The hair must be treated (shaved, waxed, etc.) before the laser treatment. For those who do not want to shave themselves beforehand, Maris Gina offers sugaring and waxing services before the laser treatment. However, you will need to specify when making the appointment. They also offer a trial session, so head over to their site and contact them for details.

Locations: Shinjuku (IPL), Shibuya (IPL), Roppongi (IPL and SHR), Utsunomiya (Tochigi)
Detailed Pricing List: http://maris-gina.com/ipl-shr-painless-hair-removal/#female
Schedule an Appointment: http://maris-gina.com/#reservation